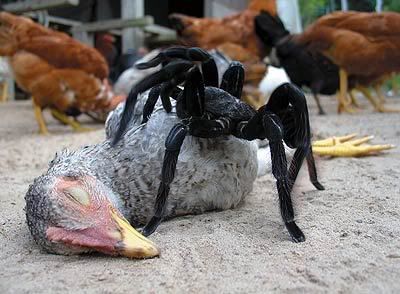 It's almost halloween, so how 'bout some scary biology curiosities? At least it's scary if you have arachnophobia, in other words if you're afraid of spiders (

which I'm not...I'm only afraid of things that has no limbs and no face and dwell this earth a couple of centimetres under our feet...yep, I'm afraid of worms!

).


Spiders are kind of cute. They have eight legs, nice eyes (

and good vision to, actually

), pretty colors and patterns and they may or may not have hair (

which isn't hair as in "cuddly", but hair as in

"I can sense the worlds movement through sensory systems you humans never could imagine"
).

Still, I can see why some of you are frightened whenever you come across an arachnid. They could bite you (

which worms usually don't do, unless they're disgusting leeches!

) with or without poison; they could move rapidly and unpredictable; they can climb up in any possible environment; you can come across them when you least expect it and they could be huuuge.

And

they can catch animals way bigger than themselves.

They can even eat birds

and sometimes, if we're lucky, there's a human with a camera to take some pictures so that we can be facinated that others than ourselves likes to eat some chicken now and then.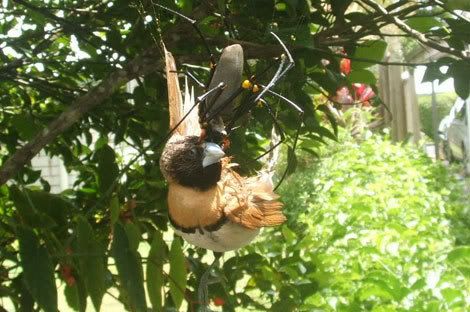 It's not really that common
but it seems like they used to be munch frequently on feather delicacies during what one might refer to as "the golden age of mygalomorph spiders".